Hey Guys,
Today's post is based around some new skincare products I've been using lately. I've noticed such a difference in my skin since I started and I am extremely impressed with the results. I am a big fan of Nivea and I tend to stick with this brand as I know the ingredients used are pretty simple yet effective. While I still use Nivea as my primary brand for cleanser and moisturizer, I also have a new found love for No7.
I have started to introduce a serum and eye cream into my skincare regime. I previously thought that these products weren't necessary for young skin and were only used to improve wrinkles and the like. I did however discover that there are many different forms of these products and they're actually crucial in preventing signs of aging. As I'm 23 now, I want to prevent any further skin issues down the line, so I was eager to try this out for myself.
Serum is great for adding radiance to your skin and ensuring that you are left with a dewy complection. A good serum will include essential nutrients and amino acids which are excellent for restoring moisture and nourishment to your skin. Excess moisture can be associated with acne as it helps spread the bacteria from each spot, however serum when applied in the correct amount can actually hinder this process. A pea size amount is enough for your face and I apply it once a day if I am wearing makeup. I personally put it on first thing in the morning, prior to anything else touching my face. I apply the moisturisor second as this helps lock in the goodness of the serum. Wait 2-3 minutes and then it's time for the makeup ritual to commence.
My favourite serum at the moment is No7 'Blemish Defence Serum' from their Beautiful Skin range. I find it's not too greasy and prevents my skin from getting too dry when foundation is applied. It is also great value at €21.00 from Boots. I don't apply it on my T-Zone though as I don't require any extra moisture in this area, this will obviously vary depending on your skin type.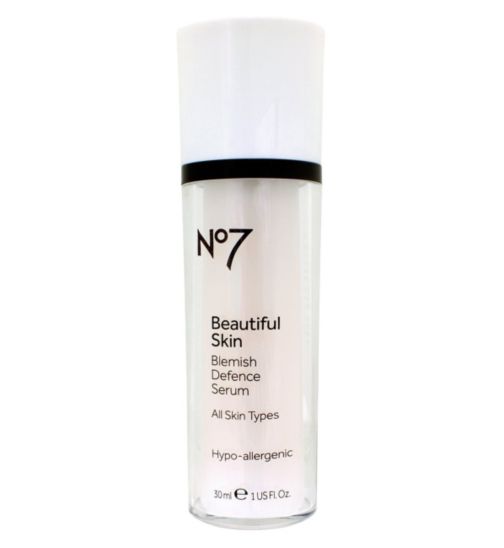 The eye cream I have started using is also No7 and I have noticed an improvement in the appearance of the dark circles around my eyes. I don't tend to get much sleep on an average night as I'm always up far too late and up far too early the next morning. I have been looking for something to boost my tired eyes and this seems to be doing the trick. There are options for younger or more mature skin, I opt for the younger as it's properties are more suited to my skin requirements. Again this eye cream is not expensive at €21.00 also.
I am shocking for leaving my makeup on after a night out and this tends to undo my good skincare regime from the rest of the week. I have started using makeup wipes after a night out as they are much quicker than using cleanser (which realistically is just not going to happen when I've had one too many) I find it quite hard to get makeup wipes that don't sting my face after a few uses. Nivea sensitive and the N07 wipes are actually extremely
gentle on my skin. It beats waking up with a face full of smudged makeup any day! I usually opt for Nivea out of habit however I recently purchased the No7 ones as there was a '3 for 2' on all skincare items. They didn't irritate my skin what so ever, needless to say I was impressed! Plus Boots also give out vouchers which enable you to avail of a €7.00 discount off these products on a regular basis. Thus meaning each of the No7 products outlined above actually come for a reasonable price. They also last as well so are definitely worth an investment in my opinion.
I am always on the look out for skincare products that aren't too labour intensive and that won't leave a hole in your pocket. I do however believe that good products are worth paying for, especially when it comes to your skin. The No7 range is the perfect medium of not too expensive combined with high quality products. I certainly am happy with my recent purchases.
Hope you enjoyed!
Z x